Taught by Peter Carl
Against the view that architectural or urban order can 'redeem' civic life through sheer form, beauty, efficient systems, etc., the PhD students use their topics as vehicles for understanding the depth of involvements, the manner in which architecture and urban topography establish the conditions for praxis. Despite the manifold investment in complex technologies, global supply-chains and bureaucratic systems, it is still true that the city gives a definite direction to nature. From this it is possible to clarify the ethical horizons of praxis, which is inevitably rooted in the common ground of disagreement/conflict.
The students' research is both practical and philosophical, using situations in London, Dongguan [China], Mumbai, Agra, Delhi, Duncan Village [SA], Luanda, Doha, Dubai, Monpazier [France], Baghdad.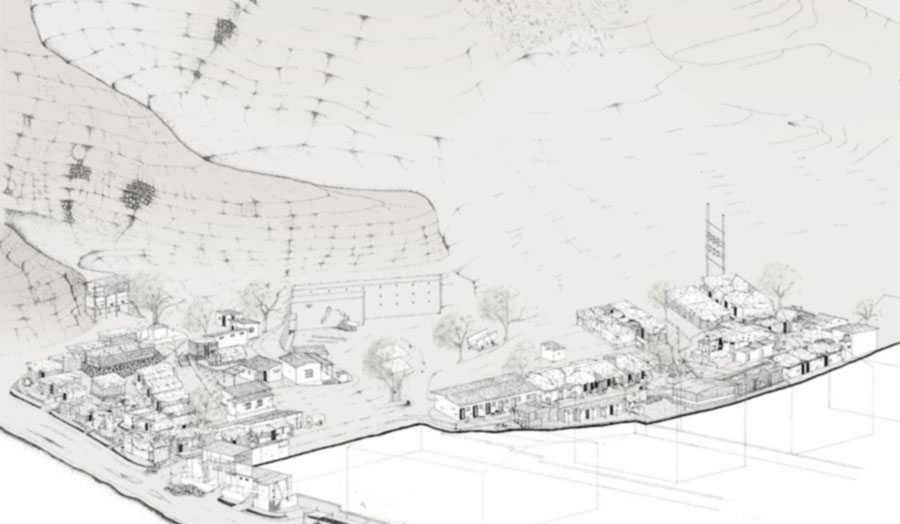 Exhibition details
Private view
Thursday 28 June 2012, 6pm-10pm
Opening
Friday 29 - Thursday 12 July 2012
Mon-Fri 10am-6pm, Saturday 11am-3pm
Venue
Spring House
Images
Bastide City Territory, Monpazier, Vision Plan
Duncan Village Redevelopment Inititative (DVRI)
Tottenham High Road: Depth Study
The Topography of the Individual
Sixty years: Doha, Qatar Peter Chomowicz
South Façade of Victoria Street Library, Lynch architects 2011
Carn Stabba Logan Stone - a natural balancing stone
Depth of topographic order, Shipai Dongguan, China
Adornments in the Umm Al Sheif Majlis, Jumeirah, Dubai