Agra waterways and inhabitation: the architecture of infrastructure and the experience of space
Suspicious of the tendency of strategic and large-scale policy planning to distil out rich but fragile local interactions, the studio encourages students to work outwards from the observed fragment of lived experience (the moment), i.e. from the bottom up. The studio aims to explore how the urban landscape is inhabited, made and remade through personal and collective acts events, memories, experiences. It cuts through the surface to expose the undercurrent of silent issues that constitute the everyday.
This year we will be engaging with people who inhabit in-between areas on the outskirts of Agra, India, and investigating the relationship between the city, its waterways (nalas) and its inhabitants, and the infrastructural boundaries (whether physical or cultural) that define these spaces and edge lands. We will adopt and adapt various readings from the new translation of O. F. Bollnow's 'Mensch und Raum', translated as 'Human Space' (ed Joseph Kolhmaier) concerning the perception of communal and individual space within the European philosophical tradition and relate to those pertaining to Hindu and Muslim people in the fast growing Indian metropolises, we will explore the concept of Hodological or 'path-space', and 'activity-space' as a way of understanding our physical mappings. This might lead us to explore the relationships between open and closed plan arrangements and between rooms and circulation space. A fundamental aspect of architectural space.
Details
| | |
| --- | --- |
| Course | BA (Hons) Architecture |
Images
First Floor Axonometric Plan
Sections through the temple complex
N-S Section through light-wells
E-W Section through the north of the carpet makers workshop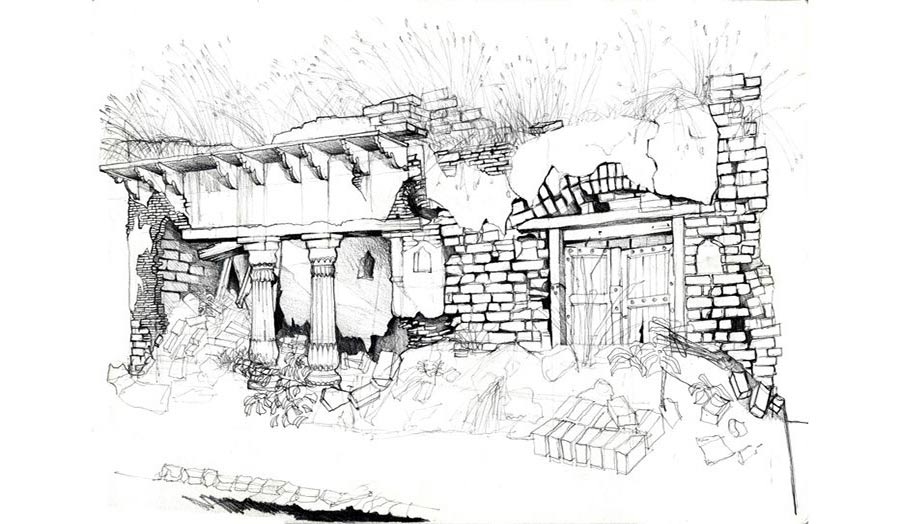 Section through proposed housing and kanda workshops
Housing - Railway Lands, India
Market – Railway Lands, India
Recharging Ukhara section
Ukhara Existing Site Plan
Section through existing blocks
Section through proposed courtyard and streets