Now What: Perspectives on the City
Wednesday 24 February, at 5.30pm via Zoom
About this event
Our movements in the city may never be the same again. At a time when we are all seeing our habitual movements restricted, new questions arise that the city must provide urgent answers to. As the next generation of designers and thinkers we must engage with the social and urban inequalities Covid-19 has proved we can no longer afford to ignore. How and who are our cities built by? And who do they serve? The time to question the city is now.
Perspectives on the City brings together three leading practitioners of the built environment across architecture, academia and urban design to discuss the future of our cities and showcase their own work.
Jacqueline Bleicher is the Founding Director of Global Urban Design CIC (GUD), a community interest company, specialising in urban design, masterplanning, transportation planning and engagement. She is an urban designer, masterplanner, placemaker, workshop facilitator, speaker, mentor, registered chartered architect, associate lecturer and co-author of Our City? Countering Exclusion in Public Space, a book by STIPO and Project for Public Spaces. Jacqueline actively promotes urban design principles, universal design and sustainable development practices in inclusive placemaking. She values the community as experts in co-designing places they want to live, work and play.
David Ogunmuyiwa runs architecture and urban design practice Architecture Doing Place, which specialises in social housing and arts projects. He is an expert on the delivery of infill regeneration in deprived environments with diverse stakeholders. David worked as a housing officer for social landlords including Lambeth, Southwark, Tower Hamlets and Circle 33, before retraining as an architect; and has combined his practice with teaching architecture at a number of universities and mentoring schemes, including Public Practice and the Royal College of Arts. David has been a great advocate for diverse authorship in publicly founded projects and holds a number of strategic advisory positions, including as a Mayor's design advocate, contributing to London-wide built environment policy and housing design standards.
Sumita Singha is an award-winning architect, academic and author with her own design practice, Eco=logic. Sumita's awards include the UIA:UNESCO International design award, Women In Business award and Atkins Inspire award. She has been teaching architecture for over 25 years in the UK and abroad. Sumita set up Architects For Change, the Equality forum at RIBA and is past Chair of Women In Architecture; and has served on a large number of RIBA committees for over 25 years. Sumita is also the founding director of Charushila, an international design charity for community project; and is the author of several books including Autotelic Architect, Women in Architecture and Future Healthcare Design.
This event is part of the Now What, student and staff project at the School of Art, Architecture and Design of London Metropolitan University.
Now What is an open discussion about re-learning design, history and aesthetics from a viewpoint that acknowledges multiple voices, backgrounds and forms of practice. Now What looks out towards a future that begins from recognising the social constructs that have allowed unjust systems to remain in place for centuries.
Now What is a collective established by Lucia Medina, James Thormod and Ektoras Arkomanis.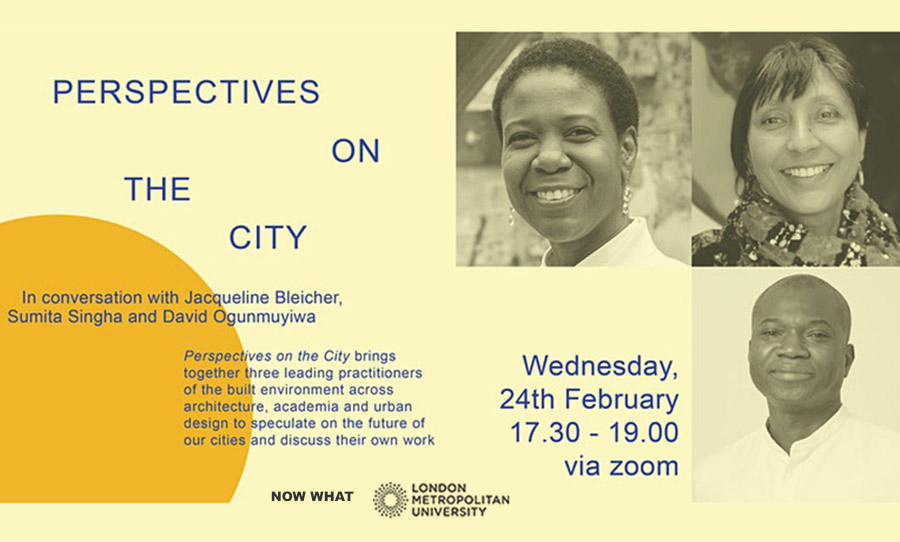 Details
| | |
| --- | --- |
| Date/time | Wednesday 24 February 2021, from 5.30pm to 7pm |
| Online event via Zoom | Book your ticket |
| Follow The School of Art, Architecture and Design | @LdnMetArts |