The One Campus, One Community (OCOC) project is quickly gaining momentum, and as we progress towards our transformation into a one-campus university, new and exciting projects are launching.
The first development of the OCOC project has seen the construction of new suites and teaching and learning spaces for all students and staff in our new building named Roding. The new facility opened in March 2018 at the Islington campus.
Where is Roding?
The Roding Building, previously known as C Block, is located in an area of the Holloway campus that was formerly used as administrative offices where both the Estates and Information Technology Services were located. As part of OCOC, this area of the building has been transformed into three floors of brand new teaching and learning spaces, enhancing our teaching with high-spec classrooms and technology.
The Roding project
Roding was renovated in the autumn of the 2017–18 academic year to provide new teaching and learning facilities.
Feedback received from staff and students around our Strategic Plan highlighted a need for the transformation of the learning experience and design features, which for our stakeholders mattered most in ensuring a high-quality teaching environment.
At the start of the project, a series of user group workshops were held with our teaching staff to identify what kinds of teaching spaces were needed, and the information technology required to support it. Key findings included the need to design spaces that respond to different student clienteles and different styles of teaching, as well as spaces that support more collaborative work between students.
Choice of furnishings was key: modern classroom furniture can facilitate a wide range of teaching styles and group work, and it is flexible enough to re-configure room layouts easily.
With this in mind, the building was refurbished inside and out to create exciting, top-quality new spaces fitted out with the latest teaching technology. Roding now hosts 11 new teaching rooms of differing capacities created to accommodate a wider range of courses and methodologies of delivery. This space is accessible and usable by different schools and subject areas.
Our new Roding building presents a great opportunity for London Met to provide a stimulating, attractive environment for learning and teaching, drawing on the best of current practice.
What does Roding offer?
We have designed modern, flexible, spacious rooms and social spaces where you are able to work, relax, network and socialise to your heart's content. These new facilities will enhance the student experience, providing a world-class environment for compelling teaching and learning experiences.
With a focus on spatial arrangement, impact and function, the Roding project ensures that these brand new spaces are:
welcoming and readily accessible for all lecturers and students
adaptable, easily and quickly reconfigurable for a range of teaching and learning activities
world-class in design and technology to ensure teaching and learning excellence in a top-quality environment
---
What do you think?
Tell us what you think about the project and its design by joining the conversation on our Community Google+ group.
An inside look at the Roding building
Photos of Roding
Roding lounge area
Roding computer room
Roding side of lounge
Roding Nureva Span technology in ideation room
Roding second floor 3
Roding third floor 6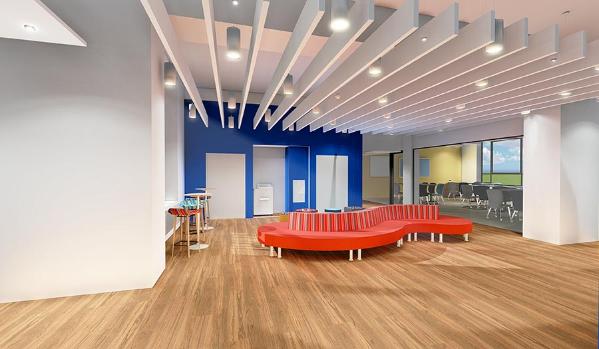 Roding first floor 2
Roding first floor 1
Roding third floor 5
Roding second floor 4