Artist impressions of the new J Block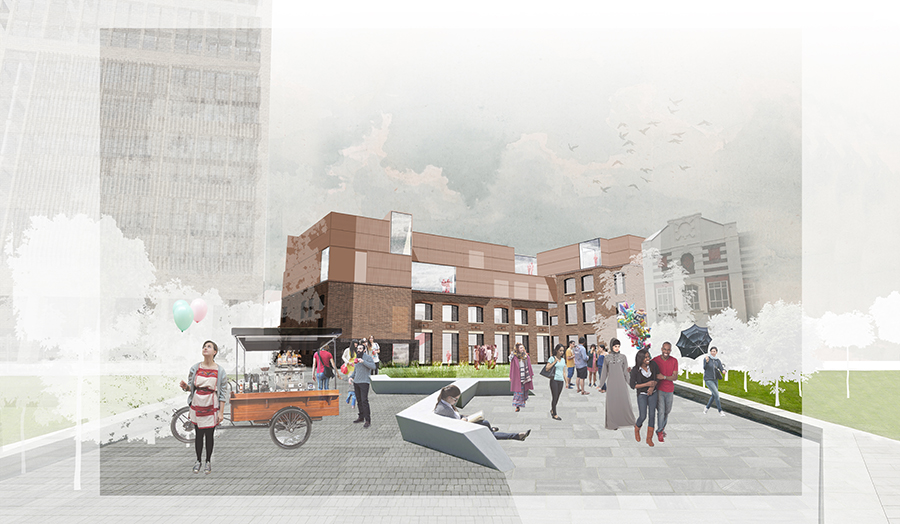 Ground floor: Study commons entrance area
First floor: Study commons break out area
Third floor: Quiet study area
Overview: Variety of study areas
As part of One Campus, One Community (OCOC) we want to strengthen links with our local community and enhance the experience of all our students, staff and public stakeholders. We are therefore planning to create both a new teaching and learning building and a vibrant, welcoming open space at the heart of our Holloway campus that is accessible to our local Islington community.
Our new teaching and learning centre
Standing at the heart of the Holloway campus is our two-storey J Block building, currently home to classrooms and our Students' Union. J Block will be completely transformed into a vibrant teaching and learning centre with an additional two floors that will double the capacity of the building and increase its density.
Our new teaching and learning centre will consist of a number of exciting new features. This includes 25 dynamic teaching spaces created with the latest teaching technology and various modern furniture designs to accommodate different teaching styles. There will also be a new cafe with the capacity to seat 250 people – becoming the principal catering outlet for the campus.
These new teaching and learning environments will be created with connected social learning spaces accessible from a new public square at the heart of the campus. Study commons spaces will also be installed consisting of both quiet learning spaces and social learning spaces to support flexible independent learning for students.