Third-year journalism student Nikos chats about his time on our Journalism BA (Hons), life at London Met, and joining the community as a mature student.
Hi Nikos! You're coming to the end of your course – could you tell us what it's like to study journalism?
Being a journalist was like a dream job. At London Met, my mind was shaped to think more journalistically. I learned how to find an interesting angle in stories, do good research, learn about the law and ethics, and properly write an article. Being surrounded by journalism experts made me want to be like them. And most importantly, the lecturers were there to help me do it.
We're glad to hear it! So tell us a bit more about your lecturers.
Let me tell you a story. Before joining London Met, I worked as a journalist back in Greece for many years. When I submitted my first assignment in my first year, I was confident that my grade would be good, just because I thought my experience was enough. It turns out it wasn't. I got the worst grade. That made me realise that the lecturers are fair and don't do favours. They have been tough with me, but never unfair. If you are willing to work hard, you will do just fine.
That's a good approach! How did you find the facilities at London Met?
There is a state-of-the-art radio studio and a fantastic TV studio. Any equipment you may need for your assignments – cameras or mics – are available to borrow. You will also have access to any software you may need for video or audio projects. Last but not least, the library is a really cool place to study along with your peers. Some of my best uni memories happened there.
What about free time as a student? Any favourite London spots?
I regret that I didn't go out with my peers for a night out when I had the chance before the pandemic. However, I was working and studying at the same time, so it wasn't really an option for me to go out on a weekday. We got out once, and it was a blast. During your uni years, you will make friends, that's for sure. Try to make as many memories as you can with them. These years will not come back.
Were you a member of any clubs or societies?
I was a Social Media Ambassador during my first and second year and a Student Rep until my third year. I wrote for Verve magazine for the first time in my second year, and I became Editor during my final year. It is an amazing experience. It taught me so many things.
Sounds like you really maximised your time here. What's more, you were a mature student. How was that experience for you?
I'm not going to lie; in the beginning, it was weird. I remember wondering if I made the right choice. I thought that maybe I was too old (I will not say the rest, sorry Danny Glover), especially when I was surrounded by people who were ten years younger than me. On the other hand, being a mature student helps you keep the balance. You know why you are there, why you are doing this, and how you will do it. My age, however, was never an issue. I find it important that London Met gives a chance to mature students. It's never too late to study and have the career you dreamed of. I never felt that my age was an issue. On the contrary, I always felt that my maturity was an advantage.
What led you to choose to study at London Met specifically?
I was looking for the best journalism courses in London, and London Met's was one of the best. I realised that it was really close to my home when I went to an open day. It is in the heart of London, in a colourful area, and that makes it unique.
Did anything surprise you about London Met?
It surprised me how diverse it was and still is. I never imagined myself studying in a sterilised, all-white university. I think diversity should be part of everyone's life, and I love that London Met has created a diverse community of students and tutors. Even though I had a bad day, the moment I was walking inside the building, I felt more calm and happy. This is the reason why London Met always felt like home.
Have you had any work experience as part of your degree?
Work placements are in the second year, where I was lucky enough to experience the pandemic along with the rest of the planet. I was all set to go to the Guardian when they cancelled all their placements. As I said before, I was Verve's editor during my third year, and because of the work I did with my university's assignment, I started working as a freelance in an investigative journalism organisation.
Thanks for sharing all of this with us, Nikos, it sounds like you had a great time. Before you go, do you have any advice you'd like to pass on to new students?
Sometimes it may feel that you can't get it done, but you can. When you submit something that's a product of your own hard work, the feeling you have will be fulfilling. Also, don't be afraid to make mistakes. This is the place where you should make mistakes because the tutors will be there to show you how to do it right. And, of course, always ask if you don't understand something. Ask as many questions as you can. You will never know everything.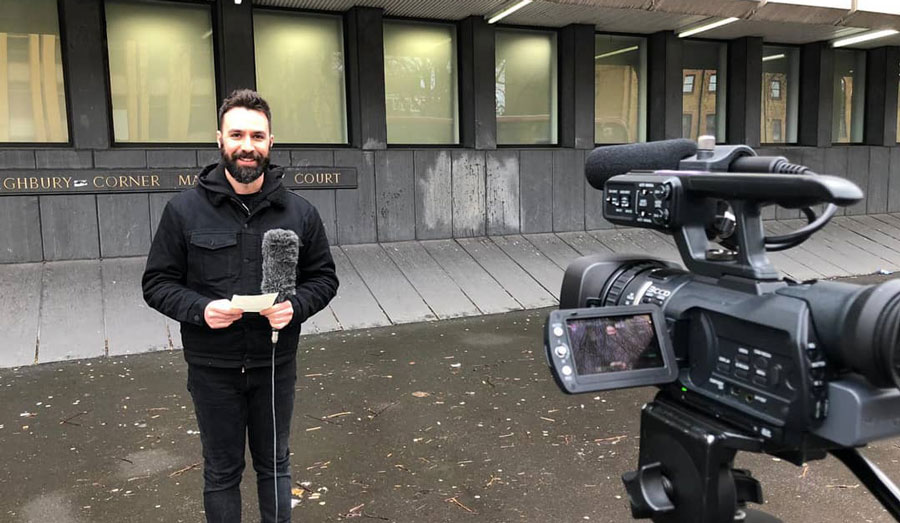 "I think diversity should be part of everyone's life, and I love that London Met has created a diverse community of students and tutors."