Monica completed her undergraduate degree at London Metropolitan University and was awarded the British Psychology Society Undergraduate Award. Monica then went on to study clinical neuroscience at University College London and had a particular interest in brain injury and electrical brain stimulation. Her journey to becoming a chartered psychologist was finalised when she went on to complete a PhD at Brunel University London in Affective Computing. Monica has received a travel award with Brunel University and best PhD presentation with the British Computer Society. Now, Monica is a full-time lecturer at London Metropolitan University teaching topics that include biopsychology and cyberpsychology. Monica is also involved in a number of external academic service activities.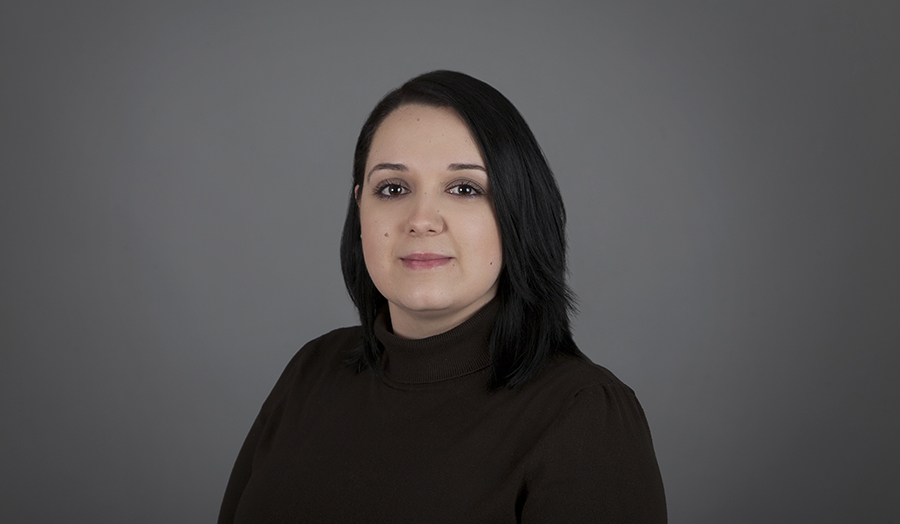 Dr Monica Pereira
Previous Jobs:
London Metropolitan University (2017 – Current)
Birkbeck University (2020)
Brunel University London (2018 – 2019)
University of Westminster (2017 – 2019)
Qualifications:
PhD in Affective Computing – Brunel University London "Communication Skills Training Intervention Based on Automated Recognition of Human Emotion and Non-verbal Cues"
MSc in Clinical Neuroscience – University College London
BSc in Psychology – London Metropolitan University
Monica is a module leader for Cyberpsychology.
Cyberpsychology is a new emerging domain within psychology which focuses on the psychological events that arise from human interactions with digital technology. This module contains two parts. The first part includes topics relating to how technology enhances human performance (virtual reality), introduction to machine learning and some elements of human-computer interaction. The second part includes topics related to 'the self online', 'forensic cyberpsychology' and 'love and relationships online'.
Other teaching interests:
Biopsychology
Foundations of Research in Psychology (module leader)
Work and Employment Psychology (module leader)
Supervision for undergraduate and postgraduate psychology courses
Research Interests:
Transcranial direct current stimulation – training in the wild
Social skills training
Conversational avatars
Professional Memberships:
British Psychology Society
Association for Computing Machinery - Special Interest Group for Computer-Human Interaction
British Computer Society
Association for the Advancement of Affective Computing
Current Research Projects and Collaborations:
Dr Pauldy Ottermans and the Ottermans Institute

ACM SIGCHI – Volunteer Development Committee: Deputy to the chair and research scientist

Pereira, M. & Hone, K. (2021). Communication Skills Training Intervention Based on Automated Recognition of Nonverbal Signals. In CHI Conference on Human Factors in Computing Systems (CHI '21), May 08-13, 2021, Yokohama, Japan. ACM, New York, NY, USA

Vishkaie, R., Pereira, M., Perry, M., Raptis, G. E., Candello, H. and Byrne, C. 2020. Understanding and Improving SIGCHI Volunteering Experience. Interactions September 2020, ACM (Association for Computing Machinery). DOI: 10.1145/3416524
Pereira, M., Colecchia, F. and Hone, K., 2018. User Centre Design of Social Signals Feedback for Communication Skills Training. Proceedings of the 2018 British Human Computer Interaction Affective Computing Workshop. DOI: 10.14236/ewic/HCI2018.207
Pereira, M., 2018. Media Skills Training Intervention Based on Automated Recognition of Human Emotion and Non-Verbal Behaviour. Proceedings of the 2018 British Human Computer Interaction Doctoral Consortium. DOI: 10.14236/ewic/HCI2018.190
Bunday, K., Pereira, M. and Davare, M., 2017. Dissecting Direct and Indirect Pathways Between Ventral Premotor Cortex and the Spinal Cord by Transcranial Magnetic Stimulation. Brain Stimulation Basic, Transcranial and Clinical Research in Neuromodulation, 10(2), p. 438. DOI: 10.1016/j.brs.2017.01.305
Bunday, Karen & Pereira, Monica & Davare, Marco. (2016). Activation of indirect pathways between ventral premotor cortex and the spinal cord by transcranial magnetic stimulation. Society for Neuroscience edition: San Diego
Presentations:
June 2021 -

Evaluation of a Virtual Teacher in Transferable and Employability Skills. Co-presenters Dr Pauldy Otermans and Mr Dev Aditya
May 2019 – "Communication Skills Training Intervention Based on Automated Recognition of Human Emotion and Non-verbal Cues"
July 2018 – "User Centred Design of Social Signals Feedback for Communication Skills Training"
July 2018 – "Media Skills Training Intervention Based on Automated Recognition of Human Emotion and Non-verbal behaviour"
January 2017 – 3 Minute Thesis Finalist
Posters:
Computer Science Brunel PhD Symposium 2019
Brunel Graduate School Poster Conference 2019 – award for best poster presentation in college
British Computer Society Doctoral Consortium 2019 – award for best PhD and presentation
Brunel Graduate School Poster Conference 2019
Society for Neuroscience 2016
Sensory Motor UK Conference 2016
Queen Square Neuroscience Poster Symposium 2016
Academic service:
Research Advisor for Otermans Institute

CHI 2022 New Orleans, USA - Organising Committee: Assistant to General Chairs

ICMI 2021 Montreal, Canada - Program chair

ICMI 2020 Utrecht, Netherlands - Program Chair

CHI 2019 Glasgow, UK - Student volunteer

CHI 2019 Glasgow, UK - Session Chair

Brunel Computer Science PhD Symposium Uxbridge, UK - Organising committee
Awards:
Best PhD Design and Presentation – British Computer Society
Best Mature PhD Extended Abstract – Brunel University London, Department of Computer Science
Best PhD Extended Abstract: £500 – Brunel University London, Department of Computer Science
Best Undergraduate Grade Award – British Psychological Society
Dr Monica Pereira, PhD, AFHEA, CPsychol