London Met celebrates diversity with vibrant float at the Lord Mayor's Show
The University's float featured images of staff, students, and alumni from its The Real London brand campaign
Date: 14 November 2023
London Metropolitan University marked its return to the Lord Mayor's Show with a float showcasing its acclaimed The Real London campaign. This vibrant contribution celebrated the diverse communities of both the university and London itself.
London Met's Vice-Chancellor, Professor Lynn Dobbs, who took part in the parade alongside staff and students, commented: "London Met's involvement in the Lord Mayor's Show reflects our identity as a civic university deeply connected to our community. Participating in this historic event is a celebration of the diverse and dynamic community that is at the heart of our university and our city."
The Lord Mayor's Show has its roots in the early 13th century, a tradition established when King John allowed the City of London to select its own Mayor. A condition of this grant was that each newly-elected Mayor had to travel upriver to Westminster to pledge allegiance to the Crown. This journey has been undertaken by the Mayors, and subsequently the Lord Mayors, of London for more than 800 years. Over time, this ceremonial trip evolved into a vibrant, colourful, and jubilant procession, which has come to be celebrated as the Lord Mayor's Show.
The University's float showcased London Met's award-winning Real London campaign, featuring imagery and narratives from the university's diverse community. It reflected London Met's core values of inclusivity and collaboration, with the enthusiastic participation of staff and students that brought the campaign and the float to life.
The University's presence at this year's Lord Mayor's show underscored its commitment to community engagement and its role as a key player in promoting cultural inclusivity in London. Through initiatives led by the London Met Lab: Empowering London, the University continues to make a significant impact, mirroring and enhancing the rich diversity that characterises London.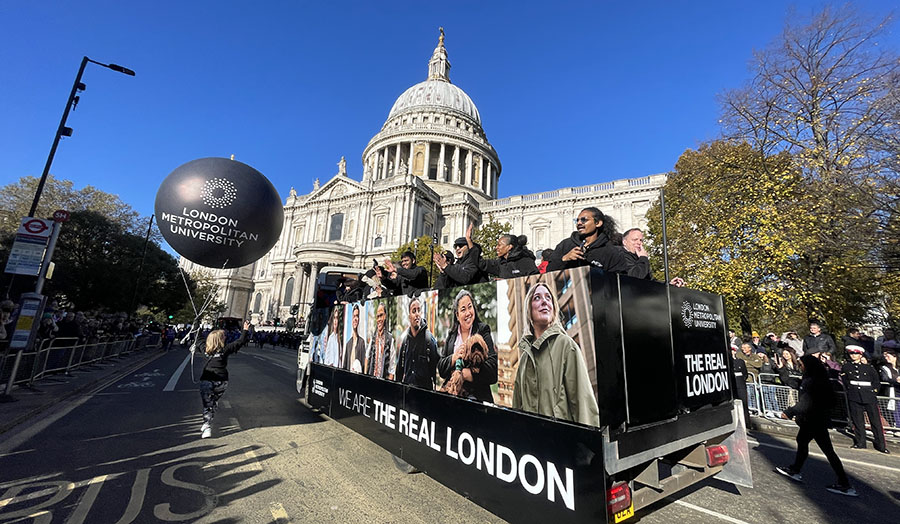 Caption: London Met's Real London float passes St Paul's Cathedral during the Lord Mayor's Show 2023