Acclaimed poet opens new series of educational talks at London Met
Anthony Anaxagorou, a British born Cypriot poet and writer spoke to a group of Level 3 students, teachers, and staff members at inaugural 'In Conversation With' event.
Date: 13 November 2023
Award winning poet Anthony Anaxagorou opened a series of lectures held at London Met titled 'In Conversation With,' addressing a large group of Year 12 and 13 students, staff members, and teachers in the Graduate Centre at the end of last month on 31 October.
During the talk, Anthony discussed his own educational journey, what intelligence and cultural capital means to him, and the power of poetry.
Senior Lecturer in Translation, Dr Piero Toto who attended the event said: "To be able to take part in a poetry event at London Met with Anthony Anaxagorou, one of the most exciting voices of the contemporary UK poetry scene, was a very special treat. As always, his presence and words were captivating - it was inspiring to see him share his passion for poetry with his young audience. The "In Conversation With..." series feels like an exciting new date in the London Met calendar!"
We spoke to Anthony after the event and asked the North London based poet a few questions:
What is the main message you hope that students take away from this conversation?
Read widely – fiction, non-fiction and poetry – and be curious. Seek out opportunities to understand the world, the structures that exist and how expression can be manifested in a range of ways.
Why are the arts so important for teenage students?
The metrics for what measures art and what measures good art are so varied, but at a fundamental level, it is about young people being exposed and challenged by different ideas. We live in a quick-hit, dopamine-fuelled world. Take time to be more complicated.
Which piece of poetry or art has been most influential on you?
I cannot think of a single poem, but one thing that T.S Eliot said to Woolf about how to read The Waste Land was to "read it with your senses." I think poetry as a form is about the feelings evoked. You can't tell what a writer's intentions are fully as a reader; a reader cannot be fully aware what the writer wants to achieve. That contract between a writer and a reader is both important and not; it is not something that should inhibit either activity. I think the key is to write often, read widely (as I've already said!).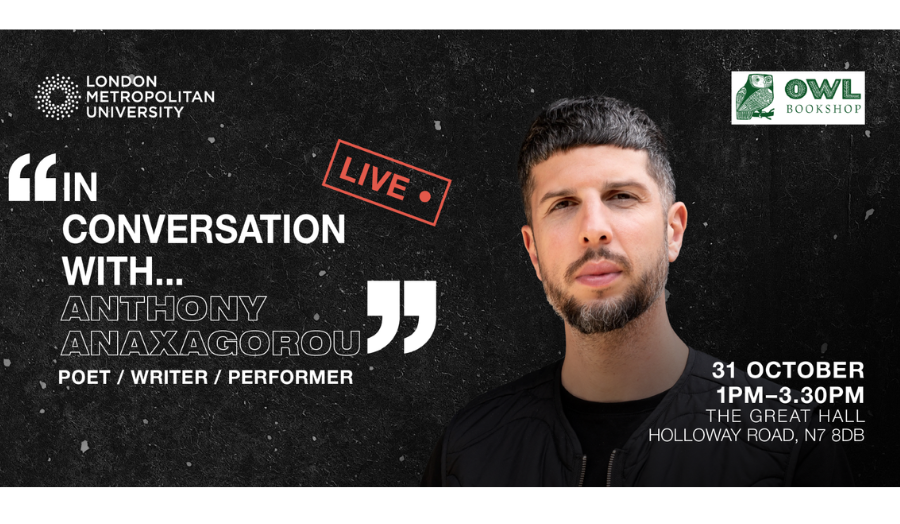 The next event in the 'In Conversation With' series will be on Wednesday 6 December with the world renowned playwright Patricia Cumper.
Please note these events are open only to students and London Met staff – please email r.fisher1@londonmet.ac.uk for further details.