London Met proud sponsors of Islington Mayor's Civic Awards
London Met joins Islington Council partners to celebrate community heroes.
Date: 20 March 2023
Council officials, London Met staff and heroes from the Islington community gathered in the Islington Assembly Hall on Tuesday 14 March for the 2023 Mayor's Civic Awards.
The awards, which celebrate unsung heroes in Islington, were presented alongside the Ben Kinsella Award is a youth award that recognises a young person aged 18 or under. London Met were proud to be the primary sponsor for this year's ceremony.
"London Met and Islington Council have a long history of working together to support residents and visitors to the Borough, so we were delighted to be the primary sponsor of this fantastic event," said Sophie Cloutterbuck, London Met's Director of London Engagement. "We will continue to partner with the council on schemes that benefit our whole community as well as support the people of Islington through initiatives such as our community clinics and other initiatives led by the London Met Lab: Empowering London."
Over the course of an emotional and celebratory evening, local residents were celebrated for helping make Islington greener, nurturing its children and young people, supporting safety within its communities, supporting residents through the cost-of-living crisis, and volunteering.
Mayor of Islington, Cllr Marian Spall said: "These awards are a way for us all to celebrate the selfless people who care about their local community and work to improve it, helping us to make Islington a more equal borough. These people are especially important at the moment as many people in our communities are struggling with rising costs of food and energy."
London Met is proud of the number of local residents who have chosen to study at London Met. One such graduate in attendance was Councillor & Chair of Islington Housing Scrutiny Committee, Jason Jackson.
Jason, who completed a Business Law and Media Studies (BA) in 2013 and served as the President of the University's Students' Union, said: ""We had an amazing evening celebrating the incredible heroes of Islington who have selflessly dedicated their time to helping the community. I was especially delighted to see my beloved London Met University sponsoring this year's Mayor's Civic Award celebration. For me, it is another moment to be proud of being an alumnus of London Met."
The winners were all presented with an award, a certificate, and a voucher for an independent local gift shop of their choice. The ceremony was hosted by award-winning comedian Tom Ward and featured musical entertainment from the Singing Well Community Choir and young singers from SoapBox Youth Centre.
Find out more about the awards and the category winners on Islington Council's website.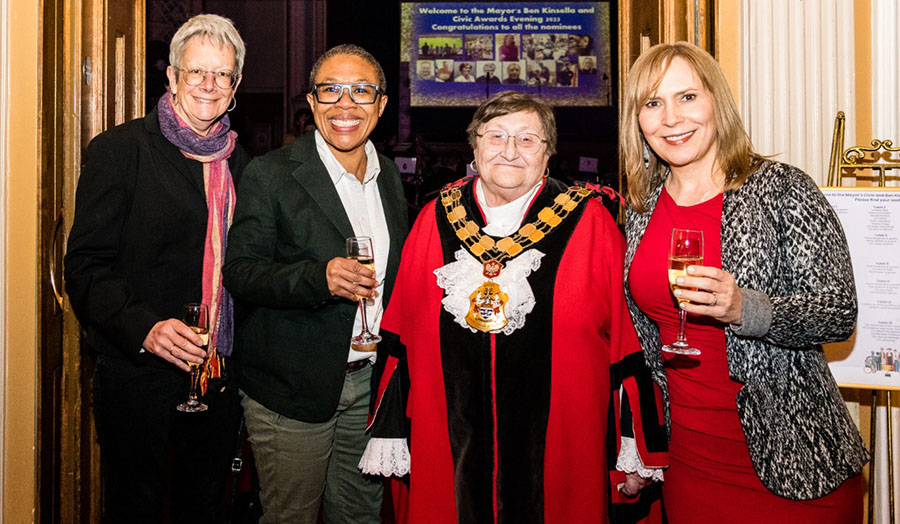 With Vanessa Airth (R) and the Mayor of Islington are Belinda Pratten Course Lead (L) and Donna Jones Head of Subject Area within the School of Social Sciences and Professions.