The Irish Writers in London Summer School returns to London Met
Now in its 26th year, the Summer School invites students from all backgrounds to read and discuss contemporary literature with a host of guest writers.
Date: 4 March 2022
The Irish Writers in London Summer School provides an informal but informed setting for you to read and discuss contemporary literature. It's also an opportunity to explore the different reasons why Irish writers come to London. How has the experience of migration influenced their work? How in turn has their writing helped express and mediate Irish culture and Irishness at home and abroad?
Each Thursday evening a guest writer will read and discuss their work with you. Each Tuesday evening prior to this, you will share your reactions to the writer's work with fellow students and the course tutor. This unique format provides time for you to digest and exchange your views before meeting the author in question.
In addition, there will be illustrated lectures and optional visits to associated Irish cultural events in London. The Summer School was founded in 1996 by Tony Murray, who will be teaching the course again this year. Watch our anniversary film here
The Irish Writers in London Summer School is not a creative writing course, but it provides an excellent complement to such a course of study at London Metropolitan University or elsewhere. It will suit anybody with an interest in contemporary writing.
This year's guest writers:
Ian Duhig
A former homelessness worker, Ian Duhig grew up of Irish parents in Paddington and now lives in Leeds where he still works with socially excluded groups and campaigning organisations as well as film-makers, artists, sculptors and musicians ranging from the Clerks, a pre-Baroque vocal consort to art-rock supergroup Springtime. A Cholmondeley Award recipient, he was International Writer Fellow at Trinity College Dublin and a Fellow of the Royal Society of Literature. He has won the Forward Best Poem Prize once, the National Poetry Competition twice and been shortlisted for the TS Eliot Prize four times. As well as poetry, he writes short stories, essays and reviews. Described by Carol Ann Duffy as, 'the most original poet of his generation', Ian joins us to discuss his New and Selected Poems which was a Poetry Book Society Special Commendation and chosen by the Irish Times, Guardian and Observer as a Book of the Year for 2021.
Deirdre Shanahan
Deirdre Shanahan was born in England to Irish parents and her fiction has been published in journals and anthologies, including The Massachusetts Review, The Southern Review and The Best of British Short Stories 2017. A collection of her stories, Carrying Fire and Water, was published in 2020. She has won an Eric Gregory Award and her work has been longlisted for the BBC Short Story Award. In 2018, she won the Wasafiri International Fiction Award and more recently was awarded a grant from The Society of Authors to undertake research in Africa. A previous guest writer at the Summer School, Deirdre returns this year to discuss her novel, The Caravan of the Lost and Left Behind (2019), published by the award winning independent Bluemoose Books. It is the hauntingly moving story of a former Irish traveller who returns to Ireland with her son and explores the experience of migration, dislocation and the perennial need for a home and sense of belonging.
Brian O'Shea and Sean Donlon
Born to Irish parents in north-west London, Brian O'Shea has worked for local government, London Underground and homelessness charities. In 1987, he became co-author of O'Shea's Guide to Irish London and has also written a novel set in the city. Sean Donlon was born and raised in Co. Tipperary and, after studying engineering in Dublin and living in Los Angeles, moved to London in 1986 to work with a short-life housing co-operative. He was a co-founder in 1987 of the journal London Irish Writer and in 1998 joined forces with Brian to found London Irish Literary Travel. LILT organises excursions to locations associated with Irish writers in Britain, Ireland and France. Brian and Sean are co-authors of The Paris of Joyce and Beckett: A Tourist Guide, which has now run to three editions. They join us in the centenary year of Ulysses to discuss their anniversary supplement which includes an itinerary that James Joyce makes through the streets of Paris shortly before his masterpiece was published in February 1922.
Ethel Corduff
Ethel Corduff grew up in Tralee, Co. Kerry. After working in the retail trade for a number of years, she moved to England in 1964 where she qualified as a State Registered Nurse in Stoke-on-Trent and later became a ward sister at Croydon General. She began writing as a child and had her first article published when she was seventeen. Since then, she has published articles, short stories and poems in publications such as Nursing Times, Irish Times and Ireland's Own. In 1995, she graduated from the University of North London with a BSc in Health and Irish Studies before retiring and devoting more time to writing. Last year, she published Ireland's Loss, Britain's Gain: Irish Nurses in Britain – Nightingale to Millennium which is the first ever book about the historical contribution of Irish nurses to the British health service. Ethel joins us to discuss her book and the recent effects of the Covid pandemic on the nursing profession.
John Leo Waters
John Leo Waters was born in north London in 1948 and grew up of Irish parents in the multicultural area of Archway. After being expelled from school at 15 and spending time in Borstal (Young Offenders Institution), he eventually met his wife and spent fourteen years living in Gateshead before raising a family in Northamptonshire where he set up a business in the fire protection industry. In 2017 he founded 'Archway Revisited', a local history Facebook group which has over six thousand members who share their memories, stories and photos about the area, including a great deal of Irish content. John Leo has written about his educational charity work in the Himalayas, published articles about 'Mod' culture for Downbeat magazine and is currently writing a memoir of his life. Now he returns to the area where he grew up to discuss his Irish background and his experience of developing and moderating local history online.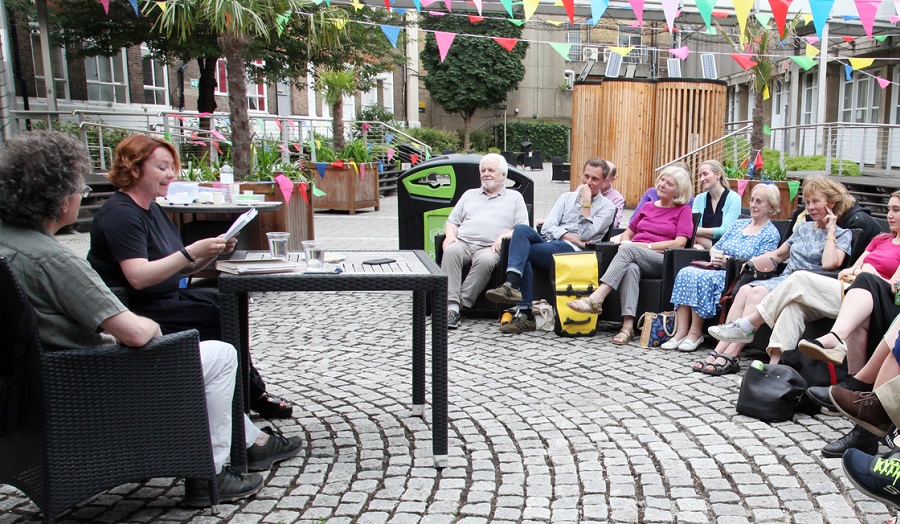 Enrol here - No prior qualifications are required to enrol
Venue: London Metropolitan University, Tower Building, Holloway Road (nearest tube: Holloway Road)
Dates: 9 June – 15 July 2022
Days: Tuesdays and Thursdays with an additional class on Friday 15 July
Times: 6.00 – 8.30pm (refreshments provided)
Fees: £175 - Early Bird (until 9 April). £200 - Full Fee (from 10 April)
Follow us on Twitter: @LonIrishWriters