London Met hosts Oral History Society's annual conference
The conference brought together an impressive and diverse range of speakers to discuss the theme of 'Home'.
Date: 19 July 2022
London Met recently hosted the Oral History Society's Annual Conference on the theme 'Home,' which took place on 8-9 July.
The international conference was organised by CLiOH (the Centre for Life Writing and Oral History) in partnership with the Oral History Society and brought together an impressive and diverse range of speakers who shared new and interesting understandings of the theme using rich oral history and visual methods.
Members of London Met's Global Diversities and Inequalities Research Centre were well represented at the conference, while Head of Art, Architecture and Design, Anne Karpf (CLiOH) was part of the conference organising team.
A project group of London Met staff and students led by Alya Khan attended as delegates: Rejeena Khatri, Nancy Bueffler, Olufunke Aderinola, Theodora Ohemeng-Mensah, Nimao Arshe, Olasumbo Kehinde, Kevin Brazant, Azar Sheibani, Masuma Ahmed-Ali, Mabel Encinas, Janet Douglas Gardner and Harleena Jagde.
Janet, Mabel, Harleena and Alya gave a panel presentation about their project at this two day conference, of which more detail is available here.
Approximately 250 delegates attended the conference, two-thirds in person and the rest online.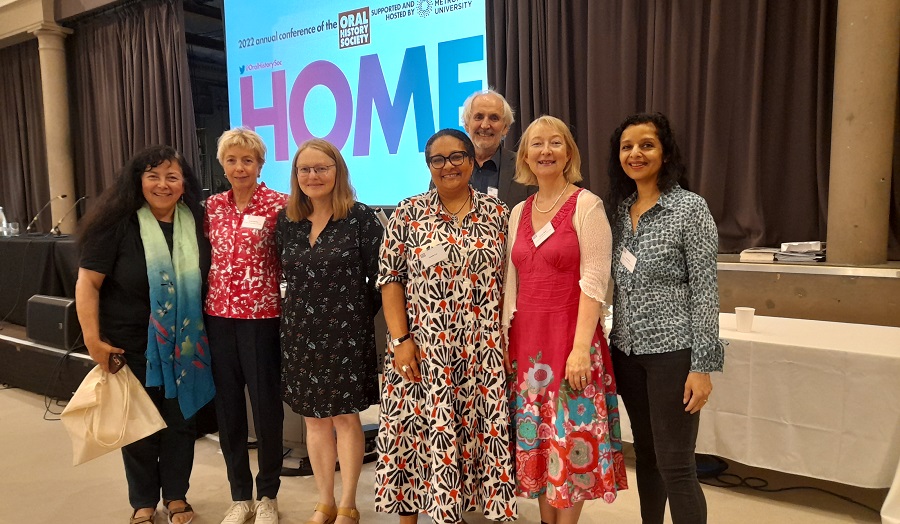 Image: the conference organising team - Jenny Harding, John Gabriel and Alya Khan, along with fellow presenters Mabel Encinas, Svetlana Stephenson and Louise Ryan, as well as the keynote speaker Juanita Cox.