Your next steps: information for offer holders
Interview decisions
Once you have attended the interview for your chosen Teacher Training course a decision will normally be processed within one week. If you are given an offer for an Initial Teacher Training (ITT) course at London Met, it will usually be conditional. Standard conditions normally given include application for Disclosure and Barring Service (DBS, previously known as CRB) and health checks. You will also need to confirm relevant qualifications by showing your certificates.
All offers are subject to the University's standard terms and conditions. You should also read our important general information for offer holders.
Your offer may be made conditional on the outcome of your pending degree or GCSEs. There may also be additional criteria as set by the course tutor.
The course tutors may also set specific targets for you to complete before commencing study. While these are not strictly conditions of entry, they will benefit you in the first few weeks when entering onto the course.
All conditions will be communicated via UCAS. You will also receive an email from the University to confirm the conditions and pre-course targets so please ensure that you monitor your email inbox and spam/junk folders. You must accept or decline the offer within the period stated on the UCAS website. Failure to do so may result in your place being offered to someone else.
Initial Teacher Training Bursary
You do not need to apply for the Initial Teacher Training bursary (ITT) Bursary personally. Upon enrolment to the course in September, your details will be taken by the University and we will manage your bursary (where eligible) in line with the guidelines given on the Department of Education website. We will confirm the level of bursary you have been assessed for in advance of you starting the course.
Enroling and funding your PGCE
PGCE Students may be entitled to a tuition fee loan. You are required to pay your fees at the point of enrolling which will be before you have received any bursary payments to which you may be entitled. Most students will initially fund the course with a loan. Additional information on preparing for a PGCE course are on the UCAS Teacher Training website. You can use the student finance calculator to get an indication of the loan you would be entitled to.
Conditions and deadlines
Our offers include deadlines to ensure that you are fully qualified and ready to enrol well in advance of the course start date.
These are to help us ensure we meet our allocation target as set by the Teaching Regulation Agency (TRA). There is little room for flexibility of these deadlines so if you are likely to have problems meeting the deadline, please contact the admissions office in the first instance.
The deadlines do not apply for qualifications you are already undertaking where the results will be available after the deadline (excluding skills tests), but these must be passed before the course enrolment date.
If you fail to meet the deadline it is possible we will remove your offer and hold your details on a waiting list until such time that you can show you have met all the requirements for entry to the course. If at that point places still remain, your offer may then be reinstated.
Please read the information below to assist you in meeting the conditions of your offer.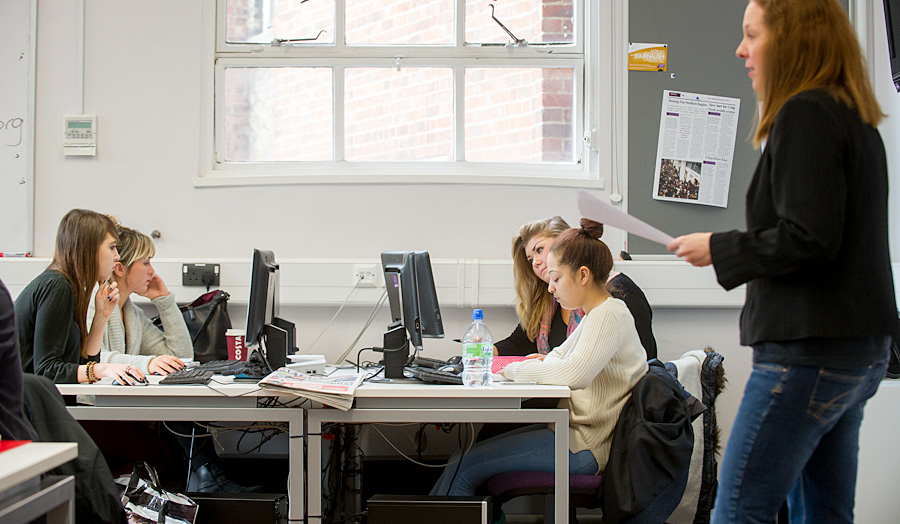 Course start date
The course is expected to enrol during the first week of September 2018.
The start of the course is an intensive period preparing you for your first school placements so late enrolment is not permitted.
Please plan in advance to ensure you are available.
Appeals
See admissions appeals procedure.
Unsuccessful applicants
Common reasons that ITT applicants are unsuccessful are:
Insufficient qualifications either subject or grades
Insufficient personal statement – not relevant or demonstrating a suitable understanding of teaching
Inadequate reference, may not reflect on the ability to teach or suitable experience/study
Inadequate school experience
Failure to demonstrate subject knowledge at interview
Lack of adequate reflection of personal experience at interview
Lack of sufficient planning at interview
Where possible we will try to offer limited feedback through UCAS.
The National College for Teaching and Leadership (NCTL) requires all student teachers to have successfully completed the Qualified Teacher Status (QTS) Skills Tests before they start an Initial Teacher Training (ITT) course.
You must enrol for and pass these tests before your offer can be made Unconditional. You do not need to wait until you have an offer to take the tests.
To register and prepare for the skills tests check the get-into-teaching website. Please note that you need to book the tests as an ITT applicant. You should not require a Teacher Reference Number (TRN).
If are a non-native speaker of English, there is a specific test version that you should book.
The results are only valid for three years from the date they are issued. If your results are older than three years at 1 September 2018, you must retake the tests to meet the conditions.
Ideally you will have passed the test before your interview. If this is the case, please confirm your results to the interviewer so that the University can verify online that you have passed.
If you have yet to take the tests, the deadline for passing is shown in your conditions.
For entry to the course in September 2018–19 this is a strict deadline, meaning that failure to pass by this date may result in your offer being removed. Your details will then be held on a waiting list until such time that you can confirm you have met the conditions and we have places remaining on the course.
If you have any queries/issues with meeting this condition please contact the admissions office.
Once you have passed your skills test, please contact the admissions office so that we can verify you have passed by checking the online results.
Skills Tests at a glance
Take the tests as soon as you can once you have applied.
Click here for further test-taker information and booking details.
When you have passed, please email ITT@londonmet.ac.uk to confirm. We will check your results online.
The tests are a strict requirement.
If English isn't your first language or you have different needs to other candidates – such as a hearing or visual impairment, a physical disability, or dyslexia – you can ask for special arrangements to be made or additional time in your Skills Tests. You'll need to make your request in advance at the time of booking your test. You'll also need to ensure you supply any stipulated evidence to prove you require special arrangements.
Disclosure and Barring Service (DBS) (formerly known as CRB)
The Teacher Training courses at London Met fall into the Regulated Courses category and as such, it is a compulsory condition of your offer to show an acceptable Enhanced DBS Certificate by the deadline given in your application.
The condition requires you to show a valid Enhanced DBS certificate (for Child Workforce) at the admissions office by the deadline stipulated in your conditional offer.
You should either have made an application through the admissions office or hold a suitable DBS Disclosure Certificate that we can check on the DBS Update service.
If applying for a new check, then this should have been done in sufficient time to allow the certificate to be issued by the deadline.
If you are required to apply for a new DBS, please be aware that the processing and issue of your new certificate may take up to six weeks, so you must apply well in advance of the deadline date.
You should not present an Enhanced DBS disclosure certificate that is dated earlier than six months before the course start date. If you do, then you must additionally be registered on the DBS Update Service and the subscription should be active at the point you enrol on the course.
Full details on how to meet the DBS requirement for the course
If you are a non-UK national, or you have lived for an extended period overseas, you will be required to make an additional criminal background check. The Home Office has published guidance on criminal record checks for overseas applicants. You should make arrangements to confirm this is complete or in progress by the same deadline as set for your other conditions.
In most cases you will need to apply for a DBS Certificate through the admissions office. However, the University can accept an existing DBS as indicated per the conditions in the University Disclosure of Criminal Records Policy.
Blank DBS application forms are available at the Course Enquiries Office. You do not need to make an appointment – just come during our opening hours with the correct ID and we can process the DBS application.
DBS Requirement at a glance.
You must have a valid and acceptable Enhanced DBS Disclosure at the point of enrolling on the course.
If you have a current Enhanced DBS for child workforce and this is registered on the Update Service then we can probably accept that. You will need to bring the original certificate to admissions to be verified.
If you do not have a DBS you must come to the admissions office to apply for one. Our office is open Monday to Friday. You must ensure you check the DBS website to check you bring the appropriate ID documentation so that we can process your DBS application. There is a charge of £44 to get the DBS processed.
Once the DBS is issued to you, you will then need to bring it to the admissions office.
We cannot accept scanned copies.
You must show the DBS by the deadline given.
There is no guarantee late DBS applicants will be permitted to the course, so do not delay.
Prior to starting a teacher training course, the University must assess your 'fitness to teach' in accordance with QTS guidelines.
Please print and complete the QTS Health Questionnaire 2015 (click to download).
The form will be processed by an external health assessor appointed by the University. There is a £19 (non-refundable) processing fee for this service.
You must submit the form by the deadline indicated in your conditions.
Submission can be made in person at the admissions office or by post.
Most offer holders will pay online via our eShop choosing 'DBS and Health check' from the product catalogue menu, but if required payment can be made in person on campus.
Submit in person – bring a copy of your payment and completed form to the admissions office. Blank forms can be completed in the admissions office if required.
Submit by post – post your Health Check form to: Teacher Training Admissions Officer, Admissions Office, London Metropolitan University, 166-220 Holloway Road, London, N7 8DB. Please ensure your form is in a sealed envelope and this is placed in another envelope with your printed copy of the receipt.
Please ensure that the questionnaire is in a sealed envelope clearly marked with your name, id number and the title of the course applied for. This is confidential and will not be opened in the admissions office so keep your payment receipt separate.
If there is any issue with the outcome of the result we will contact you. We do not confirm directly if the check is clear.
Health check at a glance
To assess your fitness to teach you must complete our health questionnaire.
There is a £19 fee for this to be processed.
The forms are sent to an external assessor who will confirm your 'fitness to teach.'
There is no requirement to have a medical examination however a report may be requested from your GP (with your consent), should further investigation be required by the assessor.
The health check is fully confidential.
Direct feedback is not given on the result unless there is an issue that requires to be addressed.
To confirm you hold the qualifications that are required for the PGCE course, you must show the original certificates at the Admissions Office.
You may already have been asked previously to upload scanned copies of your qualification documents to the applicant portal, however to confirm authenticity of your qualifications you must also bring the original certificates to the admissions office. Most offer holders will do this when applying for the DBS and submitting the Health Check Forms.
These will be verified against information you have provided in your application, uploaded certificates and your offer conditions. Your offer will not be made unconditional unless we are satisfied that you meet all academic requirements.
There are no exceptions to this condition so if you do not have the originals, now is the time to make arrangements with the awarding bodies to have replacements issued.
If you are studying for a qualification where the result will be due after the deadline you have been given, the deadline will not apply but these must be shown as soon as you have completed the award and before you would be permitted to enrol.
The University does not accept scanned copies or photocopies for entry to PGCE courses. The documents you provide will be used to assist in determining the amount of NCTL Bursary you may be entitled to.
If you have a genuine reason that makes it difficult to show your certificates within your deadline (eg you live a long distance away), you may by arrangement, scan and upload copies of your certificates to the applicant portal. You should then telephone the admissions office to confirm this has been completed. These will be checked against your conditions and your offer updated accordingly, you will still need to show the original documents at enrolment. Showing the documents earlier can make the enrolment process much smoother.
We only require your degree and GCSE certificates (or equivalent) as per the entry requirements of the course. Please do not upload other documents unless specifically requested.
If you have problems meeting any of these conditions you must contact the Admissions Office as soon as possible. Failure to keep the University informed of your status meeting conditions may jeopardise your place.
What to show
Degree certificates - Undergraduate and Masters
GCSE English Language
GCSE Maths grade
GCSE Science (for Primary or Early Years courses only)
Non-UK qualifications will be assessed for their equivalence.
The degree certificate(s) will be used to assess the level of bursary you may be entitled to.
In addition to your conditions, the course tutors may also have set some specific targets for you to complete. Whilst these are not compulsory for starting the course, they will be of great benefit in preparing you for your chosen teacher training course and will be reviewed with the course tutors in the initial weeks of your studies.
Your targets will have been specified in the email from the Admissions Office that confirms we have made you an offer. The department administrator will also send you a letter/email to confirm your place.
Check your offer email for details of any targets you have been set.