Introduction
Whether you are already providing, or expressing interest in providing apprenticeships in your business through taking on a new recruit or training one of your existing employees, we hope that this information will help you understand the services and support which we can provide and the role you can play in the process.
What is an apprenticeship?
An apprenticeship is a way for young people and adults to earn whilst in employment, often gaining accredited qualifications, evidenced assessment of their competence in the workplace and, in many cases, professional recognition. Hiring apprentices or utilising apprenticeship training for existing employees helps businesses to grow their own talent by developing a motivated, skilled and qualified workforce.
The UK Government has a clear policy that apprenticeships should form a robust and high quality route through which people gain the skills, knowledge and behaviours needed for the country to thrive in a twenty-first century global economy. The Industrial Strategy, published in 2017, cited apprenticeships as a key driver in boosting the skills gaps and shortages facing the country and as such, this was a catalyst for the introduction of new apprenticeship standards and the Apprenticeship Levy, a tax on UK business with a payroll of more than £3m which came into effect from April 2017.
The Government has produced guidance for employers about apprenticeships, which is a very helpful read, particularly if you are new to apprenticeships.
Why engage in apprenticeships?
Many employers will find themselves in the position of not having utilised the apprenticeship route for training historically but are now paying what could be a sizeable levy. So this is the first reason – to utilise funding that will otherwise be lost to your business.
But this isn't the only or necessarily the best reason. There are over 300 apprenticeship standards available and the same in development, covering a vast range of occupational areas. The scope and choice is vast and growing all the time.
Apprenticeships are also no longer just to bring in new recruits at entry level. In fact, 40% of the apprenticeship standards are at a higher education level, including full degree apprenticeships and at master's level.
The most important reason is the benefit they can bring to your business. Research shows that:
87% of employers are satisfied that apprenticeships meet their business needs
76% saw a productivity increase as a result of engaging with apprenticeships
from the apprentices' perspective, an even higher proportion (97%) believed that the apprenticeship had improved their ability to do their job
recruiting apprentices boosts staff commitment and aids retention
Your commitment

Employment length and pay
The typical duration of the apprenticeship is cited in each apprenticeship standard. The minimum duration of any apprenticeship is 12 months of training with the End Point Assessment in addition. The End Point Assessment can take a further three months but is usually less. Many apprenticeships will last longer than 12 months but not typically more than five years if undertaking a degree level apprenticeship.
The duration of your apprenticeship programme may differ depending on your business need. The duration may also differ slightly for individuals. The course may be adapted at the outset based on relevant prior learning and experience they have, or adapted during to reflect the ability and progress of that individual. This may affect the duration of the course.
The expected duration for each of our apprenticeships can be found on our course pages.
The wage you pay an apprentice must be at or above apprenticeship national minimum wage (see below). However it is good practice to pay a competitive wage for the job they are doing, in the same way you would for any other employee.
The national minimum wage for apprentices who are either under 19 or are in the first year of their apprenticeship is £3.70 per hour with a minimum contract of 30 hours per week. For apprentices who are over 19 and past the first year of their apprenticeship the minimum wage is £5.90 per hour for 18 to 20-year-olds and £7.38 per hour for those aged 21 or over. Please see the government's website for more information on the minimum wage for apprentices.
The duration of the apprenticeship will depend on the ability of the individual apprentice, the apprenticeship standard being followed and your business needs.
The minimum duration of the apprenticeship is 12 months of training and in addition an End Point Assessment. Many apprenticeships will last longer but usually no more than five years if undertaking a degree or master's level apprenticeship.
During their apprenticeship, the apprentice will ideally be employed for at least 30 hours per week. If an apprentice is employed for less than this it is often still possible for them to undertake an apprenticeship but the length of the apprenticeship will usually be varied or extended to reflect this.
Employment terms and support
Apprentices must be employed and the conditions of apprentice employment include:
Apprentices must hold a full employment contract with you for the duration of the apprenticeship programme, including End Point Assessment.
Apprentices must be employed in a real job that gives them the opportunity to gain the knowledge and skills they need to pass their assessment.
Apprentices usually work full time for at least 30 paid hours a week and must work more than 16. When an apprentice works fewer than 30 hours per week, the length of their apprenticeship will be increased accordingly.
You must pay your apprentice for time spent training or studying for a relevant qualification, whether while at work or at university. Off-the-job training must amount to 20% of the apprentice's contracted employment hours across the whole apprenticeship.
You must offer apprentices the same conditions as other employees working at similar grades or in similar roles. This includes holiday/sick pay and support offered (eg childcare vouchers). You cannot ask the apprentice to contribute towards the cost of their apprenticeship even if they leave before the end of their apprenticeship.
Further information about the role of the employer can be found in the government's guidance on employing an apprentice.
Employers also need to provide support to apprentices to achieve all their learning outcomes and particularly whilst in the workplace. In addition to support provided by their line manager, employers should allocate a workplace mentor to the apprentice who will support and guide them through their course. London Met tutors will build a good working relationship with the line manager and mentor to continually work together to ensure the apprentice successfully progresses through the course.
The health and safety of the apprentice in the workplace is the responsibility of the employer. London Metropolitan assumes this responsibility when the apprentice is at the University. If required for their role it is expected that the employer provides Personal Protective Equipment (PPE) for the apprentice in the workplace and, if needed, in the University.
The apprentice must be covered under the Employer's Liability Insurance policy and the University will require confirmation of this insurance prior to the commencement of the apprenticeship and at each renewal of the policy.
In order to utilise the Apprenticeship Levy, all employers must sign a written agreement with the University which requires the Education and Skills Funding Agency rules and regulations to be adhered to. The apprenticeship team will discuss this with you.
New Apprenticeship Standards
Apprenticeship Standards have been defined by employer groups, are recognised by industry and approved by the Institute for Apprenticeships. Each occupation will have a different Apprenticeship Standard, linked to a specific occupational level.
The Standards are designed to be rigorous, challenging and require a minimum of one year training. During their training the apprentice must have a minimum of 20% of their contractual hours spent 'off the job' and in learning. This does not necessarily mean they have to spend all this time at University as long as it is dedicated learning time.
Rather than a framework consisting of a set of quite rigid qualifications, a workplace assessment portfolio and functional skills, Standards start with a two page outline (in effect akin to a job description) and end with an End Point Assessment (EPA) plan. The EPA plan details what and how an apprentices will be assessed at the end of their programme in order to achieve their apprenticeship.
Some Standards define that a qualification or qualifications should be achieved as an outcome of the apprentices and some do not. There is no prescription of how and when the training is delivered as long as it supports the apprentice to achieve. This allows freedom for the training plan and delivery structure to be designed between the employer and training provider in a fit for purpose format. Again, although not all Standards require it, good practice would include continued assessment throughout the apprenticeship to ensure that the apprentice is on track and progressing through their programme.
As English and maths are vital life skills that underpin success in all careers, the achievement of English and maths at a minimum of level 2/GCSE remains a requirement of an apprenticeship if the apprentice does not already hold these qualifications. However, this is funded separately and is an additional aspect of an individual's training plan.
All new standards are published on the Institute for Apprenticeships website so companies, learners and trainers can access all of the relevant information.
Contact us:
If you have any queries, please don't hesitate to contact us.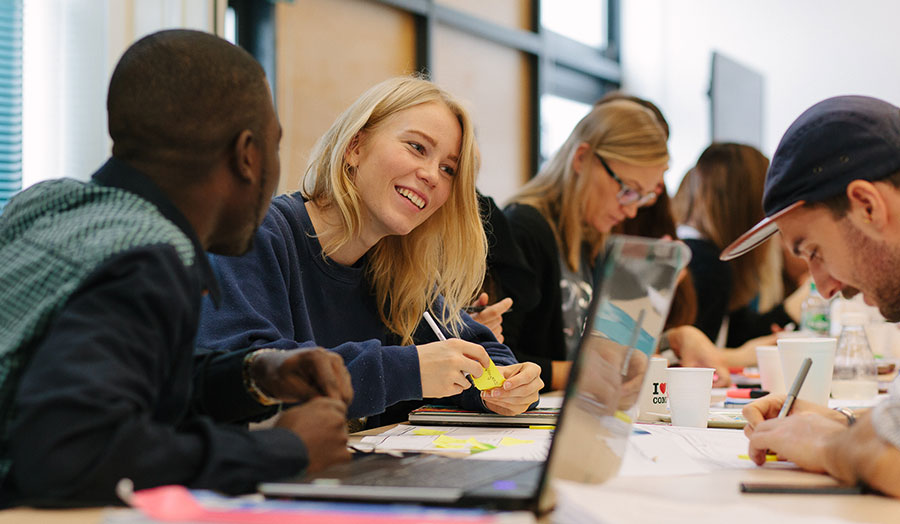 Professional accreditation
London Metropolitan University and its predecessor institutions have a proud history of providing vocational education spanning more than a century.
We have strong continuing relationships with the widest range of professional bodies including amongst many others:
British Psychological Society
Chartered Institute of Credit Management
Chartered Institute of IT (BCS)
Chartered Institute of Management Accountants.
Chartered Institute of Marketing
Chartered Institute of Procurement & Supply
Chartered Management Institute
Health and Care Professions Council
Royal Society of British Architects
Royal Society of Chemistry
Further information: